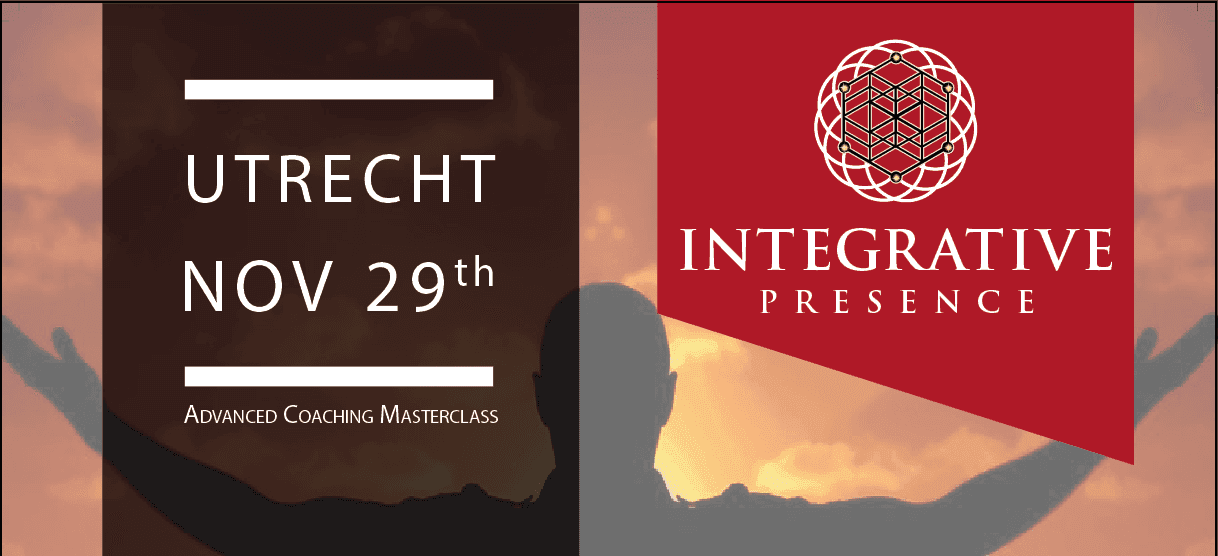 Masterclass – Integrative Presence Introduction

Next level coaching, inspired by scientific evidence.
Thanks to the efforts of Tünde Erdös, MSc., PhD(c), and her pioneering "COACHING PRESENCE RESEARCH" supported by three universities and 192 coach-client pairs, we now have the data to demonstrate the impact of presence in coaching. Tünde was inspired by the research findings to collaborate with Samer Hassan, MCC in creating Integrative Presence, an innovative-presence-based-coaching-technology. Having dedicated his life to studying the ancient practical wisdom of presence that is encoded in martial arts, healing arts and spiritual practices, Samer offered Integrative Presence the "HOW" in behavioural synchrony to complement the "WHAT" provided by the scientific evidence.
In this advanced coaching masterclass, we are sharing a step-by-step guidance to how to access presence in coaching by design to navigate the accelerating uncertainties in your universe.
This masterclass is for you if
You are a coach who outgrew coaching as a trendy profession and ready to embrace it as a "calling" and a "way of being" that manifests itself in a profession.
You feel that you are ready to grow, or even stagnation; even the most professional athlete (I.e. Tiger Woods) can reach a state of stagnation and lack of growth direction. And this is when reinventing a new approach to professionalism becomes a must to transcend your impasse.
You are a successful coach who feels that you have much more value to offer yet lack the time and effort to deliver.
You want an accurate compass to become better equipped to navigate the accelerating uncertainties that organisations and clients face.
We will play, move, discuss and coach together to explore and experience:
In-depth knowledge about coaching, presence, cognition, somatosensory influence, mind-behaviour connection and more…

  

Shifts in mental awareness
Different levels of presence
Non-verbal synchrony practices
Presence-based-goal-attainment- philosophy and methodology.
Glimpses
For privacy reasons YouTube needs your permission to be loaded. For more details, please see our
Privacy Policy
.
For privacy reasons YouTube needs your permission to be loaded. For more details, please see our
Privacy Policy
.
Coaches say
Highly experienced coaches who participated in Integrative Presence masterclass during the alpha pilot phase have reported:
I learned how to notice the way in which my environment plays out in the coaching room
Being courageous and flexible is something I thought I was – now I have come to see that there is more to it than what I knew it was: dealing with the 'not knowing' in coaching has been of huge value
Noticing the three levels of presence has been a great challenge when coaching and paying attention to the 9 questions when coaching all the more
The somatic thinking model is strikingly simple and so unbelievably effective
Meet the co-founders of the Integrative Presence program.
Tünde Erdös, Ashridge MSc. in Executive Coaching, PhD(c)
EMCC EIA Senior Practitioner, ICF MCC
When I was little I wanted to be the next Jules Vernes. I liked his fictitious characters who had human visions and real conversations full of diversity and inclusion. These were conversations that touched on the dimensions of space, time and complex realities. These were also conversations that integrated science.
Today, as an Executive Relational Coach, I get to have those conversations and in my relational practice, I also discovered the value of science-based coaching: credibility towards our clients. This discovery sparked the birth of a research project that has been awarded a Harvard Grant for its level of complex and integrative design, international scale, and innovative technological character in coaching. Please visit: www.coachingpresenceresearch.com
Just as much as Verne argued that his works were not meant to be read as scientific, saying that 'I have invented nothing', my goal as a practitioner-researcher is rather to 'co-create the coaching profession as a world of adventurous conversations that are real yet which account for the mystery of our complex and integrative being with each other – based on science. The result: a partnership with Kun Enterprise to practice and teach 'Integrative Presence' in coaching.
Samer Hassan, MCC
Profound Transformation Coach and Mentor. Serving coaches, leaders and organisations
A child who didn't find a place to belong to became a NOMAD who crosses with ease, cultures, traditions, and beliefs. Today he is still a nomad working on four continents as an ICF Master Coach who develops individuals and leaders, brings cohesiveness to teams, and train professional coaches through his coaching School. Please visit www.kuncoaching.com
Studying the major theories and the neuroscience of expanding the human potential, supported by a 30-year dedication to learning martial arts, helped Samer develop "Somatic Thinking" a coaching methodology to transform physical and emotional awareness into a valuable asset through presence for coaching and leadership excellence. Somatic Thinking message is a simple one "We can't solve problems by using the same level of physical awareness that we used when we were creating them."
Samer is the first native Arabic speaker worldwide who obtained the MCC (Master Certified Coach) and have been awarded the ICF Young Leader Award 2019 for his achievements as a coach and a mentor at the age of 40.
Samer's clients include Senior Managers, Directors, VP's and CEO's. He has worked with renowned organisations such as the UK Diplomatic Academy in the foreign and commonwealth office, Bank of Intesa-Sanpaolo Italy, AlexBank, Emaar King Abdullah Economic City, Motorola Solution Saudi Arabia, Public Health Agency of Canada, UNDP (Canada) and (Egypt), National Research Council, Federal Government of Canada, Diplomats at the Italian Ministry of Foreign Affairs in addition to coaching prominent Middle figures.
Samer currently resides in Belgium, serving his clients in stages, conference centres and training rooms around the world through his enterprise KUN.

For privacy reasons Google Maps needs your permission to be loaded. For more details, please see our
Privacy Policy
.
I Accept
Event Location
Youmeet
Orteliuslaan 11
Utrecht, 3528 BA
Days
Hours
Minutes
Seconds