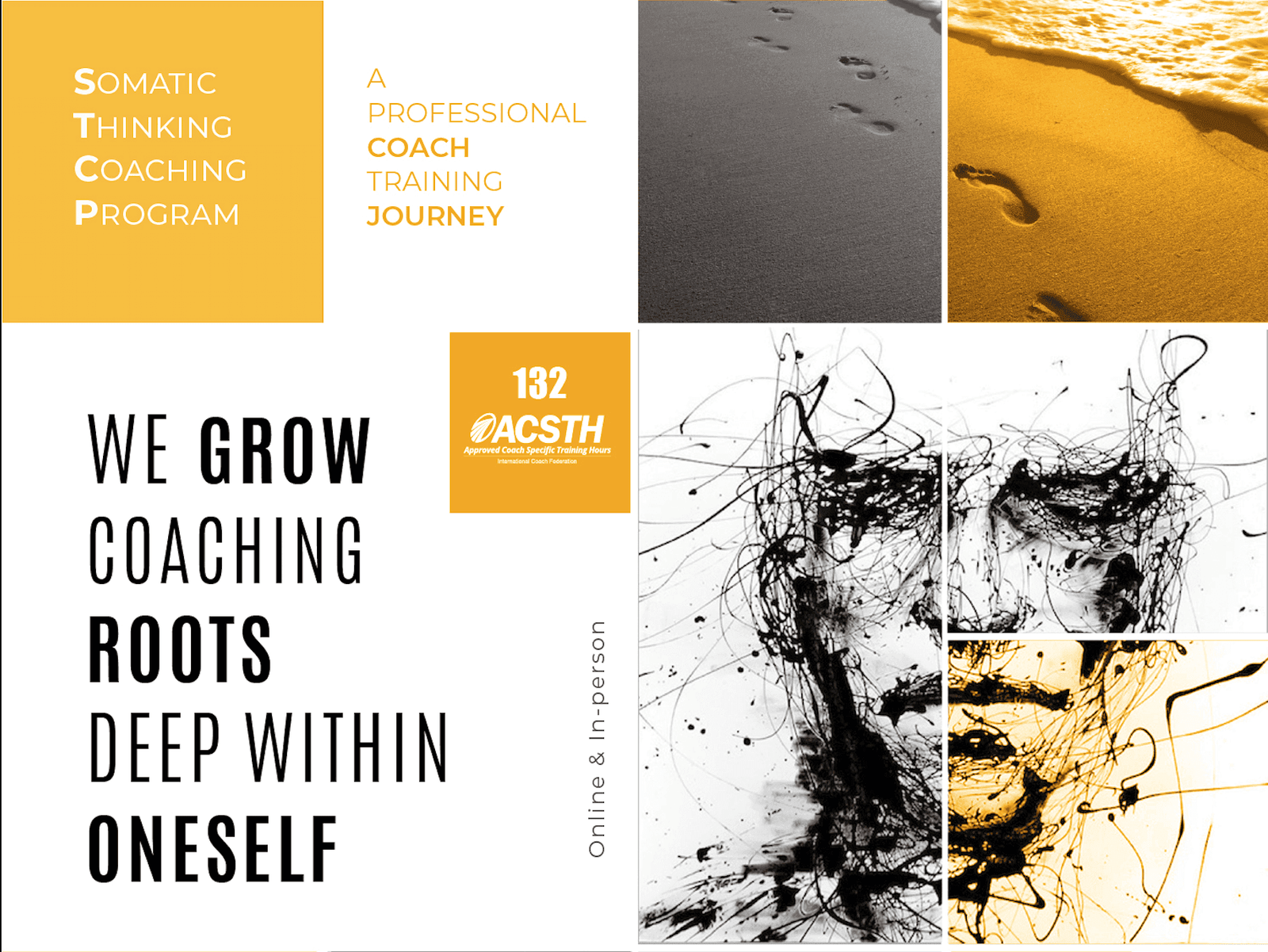 Coach Training for Future Coaches-Online – 2 Sessions per week
Live-Online-Training



The first module of the Somatic Thinking™ Coach Certification program (STCP). It is composed of a robust and rigorous foundational curriculum that includes an immediate and direct application of the Somatic Thinking™ coaching methodology.

STCP is aligned with the International Coach Federation and has been accredited as the highest level of accreditation in the world. You can check our program certificate click here
WHO IS THIS MODULE FOR?
You want to attain more balance and cohesiveness in your life.
You have a passion for helping others and want to do it professionally as an effective coach using a robust method.
You are an executive or leadership coach who wants to add a meaningful and powerful boost to an existing practice that is calling for renewal and regeneration.
You are a leader who wants to evolve your management style by learning how to empower people through coaching.
For privacy reasons Facebook needs your permission to be loaded. For more details, please see our
Privacy Policy
.
Module One-OUTCOMES
The main focus of this module is to work on helping our future coaches to align their awareness, behaviour and intention, which leads to a profound state of presence that is the core of effective coaching. In addition to working on the 'human behind the coach' participants discover the reality of coaching real clients, designing coaching programs, conducting powerful client assessments without biases, providing new perspectives to their clients without teaching, and developing sustainable change—all the while the coach is fully supported and coached by STCP faculty via distance education.
In addition to learning about coaching, participants get to receive it! Future coaches get to experience the Somatic Thinking™ process as a client and witness great presence and power as this coaching approach unfolds for the benefit of all.
MODULE  ONE BREAKDOWN
60 ICF Approved Coach Specific Training Hours (ACSTH)
5 Mentoring hours by an ICF Certified Coach
TIME COMMITMENT
16 Group sessions, 2 Sessions per week.
Program cohort includes 15 participants subject to this condition we will start our sessions in the dates and time chosen by participants upon registration. (100% moneyback guarantee if times are not convenient with you)
Session duration varies around 3 hours.
5 Individual mentoring sessions. You will book your session at your convenience.
Program Tuition



Pay in 4 monthly installments X  304 Euro
Early bird 955 Euro for the first 10 registrations. Click the registration button below
Normal price 1159 Euro.

Click the registration button below
Upon successful completion of all facets of module one. Graduates will be able to practice as a certified Somatic Thinking™ Associate  Coache and meet the ICF's training hours' requirement for an Associate Certified Coach  (ACC) level of accreditation.
Event Location
Vedioconfrence Meetings Via ZOOM